JFK Airport
Today's Pick
Airport Service

With airport transfer service between New York City, New Jersey and Connecticut airports, a complete selection of stretch limousines, luxury SUVs and sedans, our Door to Door Airport Limousine Service offers one of the most comprehensive limousine packages available for people traveling from any where in New York City to any of New York City airports. Relax and leave the driving to us. Contact us today and find out why time and time again we have exceeded our customers expectations.




This Week's Special:

7 Passenger Luxury SUV

JFK: $85

LaGuardia: $70

4 Passenger Sedan

JFK: $55

LaGuardia: $45
For Reservations & Free Quotes Call 1-877-481-9943
John F. Kennedy Airport also referred as JFK airport or simply Kennedy airport, is located in Queens about 12 miles from New York City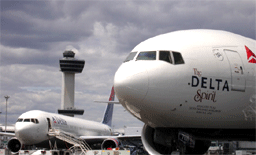 Down town area in Manhattan. JFK airport is the busiest airport in New York City with daily international flights to most world countries. JFK airport is the top international gateway to the United States. The largest air terminals at JFK airport are JetBlue, Delta, American Airline, British Airways and United Airlines but nearly 100 airlines from over 50 countries operate regularly scheduled flights from JFK International airport. JFK airport also handles a large number of domestic flights within the US.
Things that you should know about JFK Airport
Expect to pay higher prices at the food stands and restaurants the prices than are available elsewhere in New York City. Although, some airports now regulate food costs to keep them comparable to so-called "street prices". This term is misleading as prices often match the manufacturer's suggested retail price (MSRP) but are almost never discounted.
Several airports terminals at JFK have facilities for premium passengers. These lounges are typically for international or long-haul first and business class passengers, paid members, and elite-level frequent fliers on long haul flights. Some terminals even have showers. Check with your airline.
Airport security normally requires baggage checks, metal screenings of individual persons, and random strip search of individuals. This will cause a delay either because you are the person being search or someone else in front of you. Beware that any container with liquids even if it is seal can get tossed to the garbage including perfumes, crèmes, sun tan lotion. You can loose at lot of money if you carry expensive perfumes in your personal bags. Proper identification is a must. All adults need either a photo ID issued by a government authority or two other forms of identification at least one of which must be issued by a government authority.
JFK Airport Limo Transportation services provides luxury transportation for all New York City to and from JFK airport. These limousine companies offer their transportation service from JFK airport to Long Island, Queens, Brooklyn, Staten Island, Bronx, Westchester and New Jersey. They also provide JFK airport transfers to and from John F. Kennedy airport, LaGuardia airport, Newark airport, and Mac Arthur airport. Expect to pay about $85 to $110 depending on the vehicle you book.
This Month's Top Three Airport Limousine Service
Connect directly to a local limousine service for airport transportation. You can also check availability and discounts and make secure reservations with immediate confirmation.

---

Astro Limo - provides non-stop limousine service from any where in Manhattan to all the Tri-State's area airports. Their fleet of limousines include 10 Passenger Lincoln Town Cars, 18 Passenger H2 Hummers and Excursion.

| | |
| --- | --- |
| Call For Reservations: | 1-877-803-9905 |
| Quality Rating: | |

---

Wiltshire Limousine Service - provides 24 hours limousine service to and from New York City Airports, Westchester and Long Island airports. Their fleet of limousines includes 10 Passenger Lincoln Town Cars, 18 Passenger H2 Hummers and the 2006 Chrysler 300 stretch.

| | |
| --- | --- |
| Call For Reservations: | 1-800-779-8556 |
| Quality Rating: | |
JFK Car Services offer service to customers 24 hours 7 days a week. They provide world-class VIP service featuring private chauffeur transportation services in luxury sedans and SUVs. Expect to pay about $45 to $85 for a luxury sedan or SUV.
JFK Taxi. This guys are supposed to charge a flat fee of $45 to any where in Manhattan but that is seldom the case. Make sure you ask the driver if $45 dollars will get you to your destination. You will need to account for a 15% to 20% tip.
Expect traffic delays. The highways leading to JFK airport are always pack with commuters and other JFK Airport traffic. Althought a limo will take the stress of driving, like all the other road-based methods, a limo to JFK Airport can be delayed by traffic and weather. Travel time on a good day is about 70 minutes whether by car service or airport taxi.